Liberty City Stories PC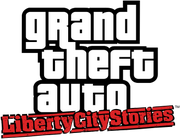 This modification is a complete conversion

LCS

From

PS2

Version of the game. It is based on the fashion

GTA: Liberty City

From

LC Team

. Weights are far from final. There are no missions yet, but the game conveys the atmosphere of the original. It is possible to go to some rooms. There are a lot of bugs, but you can play. It remains only to play what is and wait for the next version.
HackMan128, ThirteenAG, theNGclan, LC team, R*
E-mail / website:
Unknown
Los Santos MOD
Los Santos Modification 1.00 βeta What's done: - city: LAn 90% LAn2 90% LAe 100% LAe2 100% LAw 100% LAw2 100% LAwN 100% LAs 100% LAs2 100% CountryE (for now, without LODs) - made the way cars and peds (though not everywhere) - All gar...
Winter Mod 2.3
Winter Mod - a global winter modification for the game GTA: Vice City, after installation of which the whole city will be completely covered with snow. Manually edited and reworked more than a thousand game textures, most of them are made in h...
Hot coffee mod
Many liked Hot coffee mod for gta sa. Fans of VC also wanted such a mod. Get it!


[!] If you think that this file has already been added to the archive, please let administrator know about this with links to this file and the file that you previously added.