Liberty City Stories PC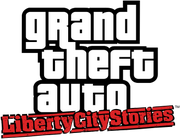 This modification is a complete conversion of

LCS

from

PS2

game versions. Based on the mod

GTA: Liberty City

from

LC Team

. Vesria is far from final. There are no missions yet, but the game conveys the atmosphere of the original. It is possible to enter some rooms. There are many bugs, but you can play. It remains only to play what is and wait for the next version.
Author:
HackMan128, ThirteenAG, theNGclan, LC team, R*
E-mail / website:
Unknown