/
/
/
/
Files to replace Brown jacket
Files to replace Brown jacket in GTA 4 - 33 files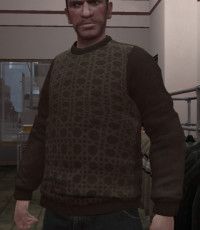 This page provides a list of all the files that might replace
Brown jacket (uppr_015_u.wft, uppr_diff_015_b_uni.wft)
in GTA 4
Replace another model
Sort:
Files have been sorted by date in descending order
Liberty City Rampage Jersey for GTA 4!

Features:
- HD quality textures
- No bugs
Author:
Rockstar Games, Emil_Makeev
Uploaded:
30 December 2016
Texture mod replaces Niko's standard sweaters with new ones.
Uploaded:
10 December 2016
Beautiful jacket with a green logo tuning company "GReddy". This jacket can be bought in the MODO store.
Enjoy your game!
Two WANS sweaters for the main character of GTA 4. ...
The mod adds a Nike jacket for Niko, do not judge strictly - this is just the beginning. The jacket can be bought in a Russian store.
Uploaded:
26 February 2014
Trademark of sportswear using the colors of the national flag of the Russian Federation. This mod replaces sweaters, windbreaker and tights in MODO stores and Russian clothes. Attention! This mod must be installed manually, because. the installer c...
Hello everyone!
I am posting the second part of the DA-Dlin Sweatshirts mod.
You can buy sweatshirts in the "MODO" store.
Have a good game!
New jacket for Niko. Good quality texture: 1536x1536.
Well, here is the latest version of the "Supersweater" mod in this fashion logos of superheroes: 1. The Punisher 2. The Incredibles 3. The well-known Flash

Have a nice game everyone!
Good day everyone, I present to you the continuation of the super sweater mod for Niko!))
---------------------------------
Have a good game !!!
sorry that the screenshots are not in order

to be continued...)