/
/
/
/
Files to replace Gray flying jacket
Files to replace Gray flying jacket in GTA 4 - 17 files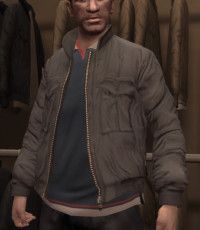 This page provides a list of all the files that might replace
Gray flying jacket (uppr_002_u.wft, uppr_diff_002_b_uni.wft)
in GTA 4
Replace another model
Sort:
Files have been sorted by date in descending order
For those who are interested in the biker theme. I edited some textures for two gta 5 jacket models and one biker jacket from the quad. Mostly work only on textures. I'm not the author of the models, I just worked on the textures, I did it for myself...
- High quality model. - The model supports all the main functions of the game. - This model is playable in missions and works correctly in cutscenes. The archive includes: 1-Rambo: This folder includes all Rambo models. 2-M60E4: This folder include...
Hello everyone! I am posting the work "Jacket House - 3".
You can buy a jacket in a Russian store.
Don't forget to comment and enjoy the game!
Hi all! I am glad to present you a new work "Lonsdale Jackets".
Beautiful jackets from Lonsdale, in red, blue and green. You can buy jackets in the Russian store.
Have a good game!
A pack of sports jackets for GTA IV.
The mod includes 8 different sports jackets and shirts under the jacket.
You can buy jackets in a Russian store.
Author:
Alexander Ivanovich
Niko without stubble, with blue eyes, in denim with Serbian symbols. The cap differs from the one I added earlier in higher quality and the absence of an inscription on the visor. The cap and jacket will appear in the Russian Store.
A small set of denim jackets. There are 3 colors: Black, blue and light blue, as well as three options for t-shirts (under the jacket): #1 Affliction shirt #2 Striped polo shirt #3 Beatlers Logo Shirts They can be bought in a Russian clothing store. ...
Uploaded:
21 December 2010
Tracksuit "RUSSIA" is in the Russian store.
A collection of clothes for gta tbogt, screenshots in the archive, I am the author of mods and assemblies.
A pack of black suits for gta tbogt, everything can be seen on the screen.
BONUS: suede boots, boots not mine.