/
/
/
/
Files to replace cars Mafia Sentinel
Files to replace cars Mafia Sentinel in GTA 3 - 18 files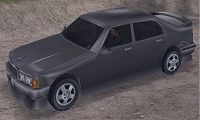 This page provides a list of all the files that might replace
cars Mafia Sentinel (mafia.dff, mafia.dff)
in GTA 3
Replace another model
Sort:
Files have been sorted by date in descending order
Author:
Du-mont, Stanislav, IVAN, kenking
GAZ 31107 for GTA 3. The car was a modernized version of the GAZ-31105 model, differing from it, first of all, in the design and layout of the rear of the body. When creating the GAZ-31107, the designers replaced the rear leaf spring suspension wit...
The engine, 1.6 L D16W1, of the first generation Honda HR-V, produced from 1998 to 2006, used as a 2D engine texture in every GTA 3 car, has been reworked into a 3D model and replaced in every GTA 3 car using this texture. Features: - Well-develope...
A complete collection of original vehicles for GTA 3

For those who do not like to backup files.
Instructions inside the archive.

Have a good game! : 3
Uploaded:
27 February 2021
Features of the model: - High-quality model envelope from Juiced 2 and other games - Car scale - 110% of the original 3D model - Own collision models and chassis_vlo - Realistic damage and controls - Adapted to modifications as SkyGFX and ENB Serie...
Cars from GTA: Liberty City Stories in the style of GTA 3. Car List: - Bickle❶ - V8 Ghost - Fbicar - Flatbed - Forelli Excess - Hearse - Thunder-Rodd - Kuruma - Landstalker - Manana - Perennial - Phobos Vt - Hellenbach GT - Sindacco Argento - Deim...
The original conversion of models and textures from the xx version of GTA3. What is converted: -transport -vegetation -all textures -effects(partial) -buildings (only those that have differences) -characters -menu What is missing: -shadow maps ...
About fashion - replaces Mafia Sentinel (ID 134); - low poly model; - basic materials in the style of GTA III; - updated collision; - scale 110% of the GTA IV model; - 2 model options: regular and tuned. ...
Uploaded:
10 February 2017
-Low quality
-Good damage
-Good handling
-Low interior detail
-No bugs

The model contains 179450 polygons 3D engine parts High level of detail of the interior of the car Fully functioning front and rear lights All parts of the car are damaged Own settings One extra - sunroof This model requires DMagic1 Wheel Mod v3.0 to...